Small Grant 2023 Recipients
Actions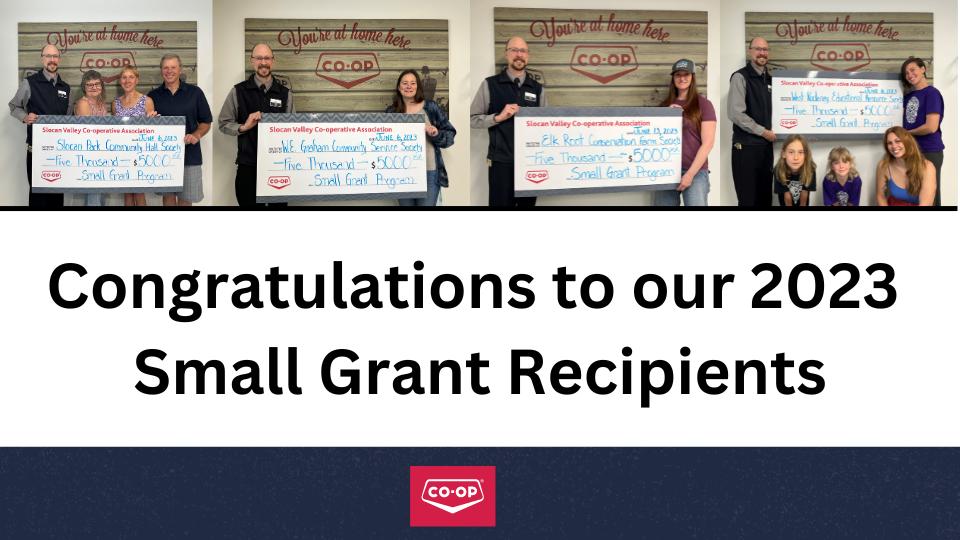 Small Grant 2023 Recipients
July 25, 2023
The Slocan Valley Co-op will is ready to announce the recipients of the 2023 Small Grant Program. This program provides a total of $20,000 to this year's recipient. We are proud to announce the organizations selected for 2023 to receive a grant to support their project or program.
This year's Co-op Small Grants Program recipients were selected from among a dozen applications for funding to support groups and organizations with their projects or programs. The following organizations were selected to each receive a grant of $5,000 from the Slocan Valley Co-operative Association for their project funding needs. Read further for information on their project or program.
W.E. Graham Community Service Society provides programs and services that actively engage individuals and families in the Slocan Valley. They facilitate lifelong learning opportunities for all community members. They also provide leadership in community, economic and social development. Their Senior's Lunch & Outreach Program provides a place for seniors to access a monthly free and nutritious lunch, as well as have a social gathering and access information about other services. The program also includes meal delivery which also offers a social check-in and information sharing to identify if the senior requires additional needs. The program has served between 60 to 75 seniors in the Slocan Valley and continues to grow.
Elk Root Conservation Farm Society Their not-for-profit mission is to alleviate food insecurity, and to protect, restore and enhance fish, wildlife & pollinator habitat demonstrated by example through boots-on-the-ground habitat conservation projects and by offering inclusionary and inspiring learning opportunities through research, innovation, and hands-on education at Elk Root Conservation's Educational Demonstration Farm. Their educational workshops focus on ecological stewardship, wildlife conservation & habitat restoration, honeybee wellness & wild pollinator gardens, sustainability, regenerative 'beyond' organic gardening, biodiverse farming practices and local food security.
Slocan Park Community Hall Society The main objective of this program is to provide free, regular, and inclusive events for seniors in the Slocan Valley area. The goal is to have a central meeting place where Valley Seniors gather weekly to enjoy coffee/goodies/music, meeting new friends, and participating in craft days and educational opportunities. They offer soup days intermittently, and plan to hold a community barbeque. This program has a paid coordinator and several volunteers who bake/cook, serve, clean up, and organize key speakers. The Slocan Park Community Hall Society is pleased to offer a safe and accessible venue with fully approved kitchen and audiovisual equipment.
West Kootenays Educational Resources Society The project is Farm to Table Education Program which focuses on agricultural learning through hands on experience. This project will include visits to at least four local farms to gain knowledge and techniques. The students will learn from professionals in the field of food security and sustainability which supports their understanding of how to care for the land and grow their own food. The funding goes towards the school purchasing produce from the farms in the fall and spring and using them in the hot lunch program. The idea is to source as much local food as possible to use in the meal planning and creation. The hot lunch program runs for 30 days out of the school year and provides students and staff with a free, healthy, and nutritious lunch once a week. These meals are made by the students with a parent support. Each student will have a chance to help plan and cook the meals. Lastly, the funding goes towards building a small greenhouse. The school will use the funds to purchase materials for constructing a small, hoop style greenhouse and students will have the opportunity to adopt learned skills: planting, weeding, maintaining, and harvesting their own food.
If you are interested in applying for next years application, please visit our small grant section here:
Discover more: